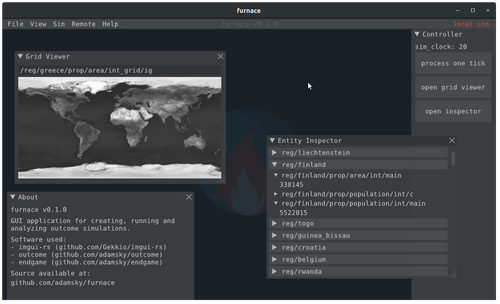 So I pushed the GUI tool app to a point where I have most things sorted out when it comes to internals. Now what's left is "just" adding a bunch of features:)
It's still far from useful for an average user, but it's going to get there. Right now there's not much to do, other than loading up a scenario and inspecting variables. Something that took a little more fiddling around than other stuff was the ability to display grid vars from the sim as images. I managed to get a basic version of this working, see the "grid viewer".
I'm still thinking about how to organize the windows, and whether to organize them at all. `imgui`, the immediate gui library I'm using for this, is great with "floating", user-organized windows out of the box, but I guess I'd like some elements like the "controller" you see on the screenshot to be allowed to toggle between a docked and "floating window" mode.
If you want to test it out I recommend using https://github.com/theoutcome/business_as_usual scenario.